FLEX PIPE FAILURE
SWOLLEN and BUCKLED SKIMMER LINE SEGMENT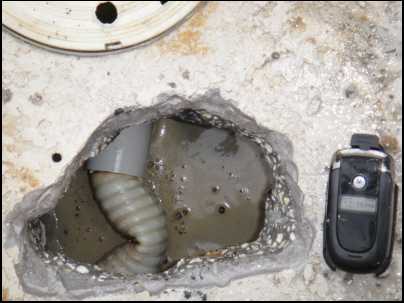 PVC flexible pipe (flex line) is prone to swelling, buckling, and collapsing when prolongedly exposed to concentrated chlorine (i.e. chlorine tabs/pucks). Flex line can also collapse when plumbed-in as suction (vacuum) side piping (i.e. skimmer and vac-cleaner lines, and to a lesser extent, drain lines).
SWOLLEN FLEX LINE INTERIOR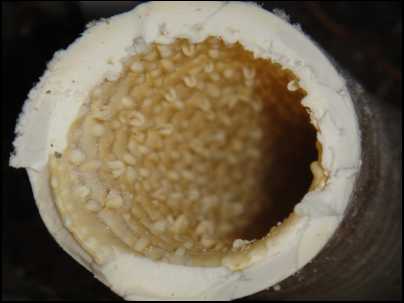 This is a typical example (resembling arteriosclerosis) of the interior of a section of flex line (skimmer line exposed to chlorine tabs stored in the skimmer basket). Many pool plumbers apparently splice in a section of flex line (not externally visible) when plumbing into the skimmer--presumably to aid in aligning the pipes coming from the filter/pump during installation. Another reason to keep chlorine pucks/tabs out of skimmer basket involves the preservation of the grout/finish around the skimmer mouth. Prolonged exposure to (acidic) chlorine tabs eventually deteriorates the finish and grout adjacent to the skimmer opening in gunite pools (and liner & caulking in vinyl and fiberglass pools respectively).