AADVANCED MAJOR REPAIRS...
GOT DECK?
We proudly offer DECK-SAVER™ INTERNAL PIPE REPAIR—a permanent way to seal most plumbing leaks without the destructive need for cutting through the deck.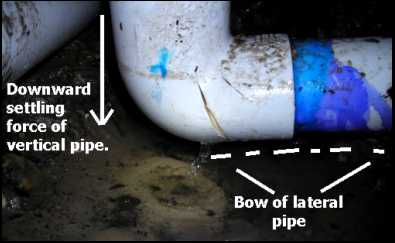 Somewhat similar to cardio-pulmonary angioplasty, this patented method permanently repairs pipe breaks internally—avoiding broken-up deck (or pool floors) and unsightly repair scars. WE ARE THE ONLY LEAK DETECTION COMPANY IN THE WORLD TO OFFER THIS DECK-FRIENDLY TECHNIQUE. For those times when going through the deck is necessary (i.e. complete pipe separations, crushed pipe etc), we offer arthroscopic and minimally invasive through-the-deck (TDR) repairs with OUTSTANDING deck texturing capabilities after the repair is completed. After spot repainting, many of our textured repairs virtually disappear. All of our plumbing repairs carry an extended 3-year warranty.
TILE-SAVER™ CRACK INJECTION
The only permanent way to seal upper-tile separations without retiling (which is often expensive & ineffectual).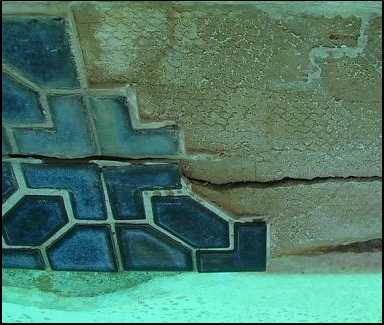 Tile-Saver™ Crack Injection repairs offer a cost-effective solution for stopping chronic tile-line leaks. This proprietary procedure can also be used for certain prescribed shell and wall cracks.
Our innovative and proprietary crack injection technique involves (high-pressure) injecting a flexible, expandable, polyurethane resin into the crack. Once the resin cures (in a compressed spring-like state--very crucial), we remove the temporary injection ports & grout-in the unobtrusive injection holes. Once we are done, the leaks will be thoroughly sealed without having to retile the pool (which is an oft futile attempt to stop water loss). Our crack injections carry an extended 3-year warranty.
KEYED GASKET-WAY™ CRACK REPAIRS
A formidable addition to our crack repair arsenal, diamond cut Keyed Gasket-Way™ Repairs provide a superior method for permanently sealing problem wall & floor cracks.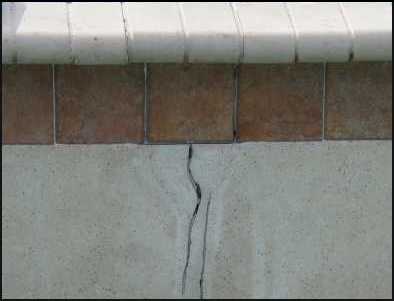 This method is appropriate for when there are extensive wall & floor cracks that exhibit large movement characteristics, and relies on the inherent properties of a gunite pool shell. Gunite shells are fortified with an extensive rebar (steel) endoskeleton. The underlying rebar structure flexes (allowing for the occasional shell crack), but doesn't allow much further movement due to the substantial tensile strength of the steel--e.g. a single 1/2 inch diameter steel rod can hold over 20,000 Lbs. Keyed Gasket-way™ Repairs are also best suited for cosmetically concealing the crack since it is essentially a surface oriented repair.
The repair process begins by diamond cutting a keyed gasket-way over the crack area. The keyed gasket-way is then filled with our proprietary (color-matched and finish impregnated) Aadvanced Silicone—having 600%-elongation properties. The end result is a permanently sealed crack that will visually/physically stay sealed during normal expansion/contraction cycles of the pool shell. Our Keyed Gasket-way™ Repairs carry an extended 3-year warranty. The process can be performed before (or instead of) resurfacing.